Innovative Pipeline
---
Glenmark's R&D is committed to identifying products that fulfill unique and unmet medical needs in inflammation disorders, especially in respiratory and dermatology therapies and also oncology.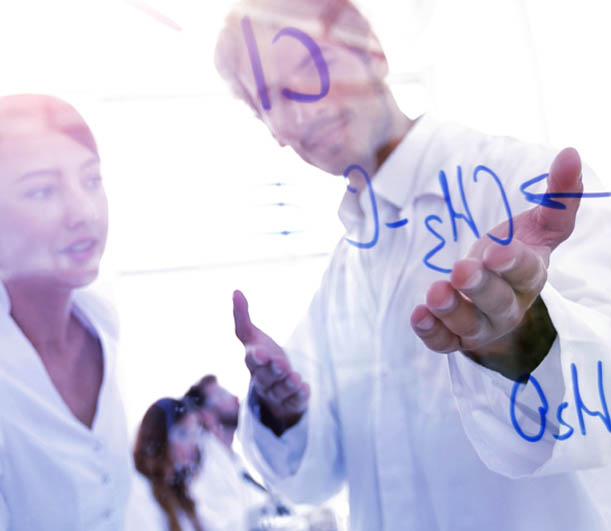 NBE MOLECULE: RYALTRIS/ GSP 301
Mechanism:
Steroid + AH
Primary Indication:
Allergic Rhinitis
Overview
Ryaltris (mometasone furoate (25 mcg) and olopatadine hydrochloride (665 mcg)) nasal spray suspension (formerly GSP 301)
Ryaltris, an investigational product, is a combination of a steroid and an antihistamine administered intranasally intended for the treatment of seasonal allergic rhinitis.
Glenmark's first new drug application (NDA) to the FDA for Ryaltris for the treatment of patients 12 years of age and older with seasonal allergic rhinitis (SAR) was accepted for review with a target Prescription Drug User Fee Act (PDUFA) date of March 21, 2019. The filing included efficacy and safety results from two pivotal, randomized, multicentre, double-blind, placebo-controlled trials in adults and adolescents 12 years of age and older with SAR. The similarly designed trials lasted two weeks and enrolled 2,352 patients. Assessment of efficacy was based on patient-reported reflective total nasal symptom score (rTNSS), along with other patient-reported measures of nasal and ocular symptoms. Across the two studies, treatment with Ryaltris resulted in statistically significant improvements in rTNSS compared to placebo.
The incidence of adverse reactions in four placebo-controlled studies was 13.9% in the Ryaltris treatment groups versus 9.5% of patients in the placebo groups.
According to the most recent data, over 17 million adults in the U.S. are affected by seasonal allergic rhinitis, also called hay fever, every year. Currently, there is only one product available in the U.S. that combines a steroid and antihistamine in a single spray.
NBE MOLECULE: GBR 310
Mechanism:
Biosimilar
Primary Indication:
Asthma,CIU
Overview
GBR 310 is a biosimilar candidate being developed for the treatment of asthma and chronic idiopathic urticaria (CIU). Glenmark has completed a Phase 1 study which will assess the pharmacokinetics of GBR 310 in comparison to the reference product. The trial randomized 168 subjects and 162 completed the study at the end of April, 2018. GBR 310 has the potential to be among the first biosimilar candidates to be submitted to the FDA for approval for a respiratory or allergic disease in the U.S.
Asthma is one of the most common diseases in children and affects more than 18 million people older than 18 in the U.S. Allergic asthma is unique because it is triggered by exposure to year-round allergens like pet dander and dust mites. Allergies trigger asthma attacks in 60-90 percent of children and in approximately 50 percent of adults with asthma.
Urticaria is a common skin disease that presents as spontaneously recurring hives or welts. It occurs across all age groups and about one percent of the population suffers from a chronic form of the disease. Among this group, 70% of people report symptoms that last for more than one year and 14% report symptoms that last for more than five years.
NCE MOLECULE: GRC 39815
Mechanism:
RORγt Inverse Agonist
Primary Indication:
COPD
Overview
GRC 39815 is a potent and selective retinoid-related orphan receptor gamma t (RORγt) inverse agonist that suppresses T helper type 17 (Th17) cell differentiation and interleukin 17 (IL-17) production. GRC 39815 is being developed as an inhaled treatment for patients with Chronic Obstructive Pulmonary Disease (COPD).
COPD will be the third leading cause of death worldwide by 2020 and is now the third leading cause of mortality and morbidity in the United States.
RORγt/RORC2/NR1F3 is a transcription factor required for T helper 17 (Th17) cell differentiation and production of interleukin-17 (IL-17). Increased IL-17 expression has been observed in multiple cell types in animal models of COPD and in COPD patients. An IL-17 signature was found in ~ 30% of patients with COPD and associated with a distinct mechanistic, clinical and radiographic signature. Data suggest that a gene signature of IL-17 airway epithelial response distinguishes a biologically, radiographically, and clinically distinct COPD subgroup that may benefit from personalized therapy.
A Phase 1 single ascending dose study in healthy volunteers is currently ongoing and a Phase 1 multiple ascending dose study in healthy volunteers is planned for Q3 FY22.
NCE MOLECULE: GRC 17536
Mechanism:
TRPA1 Antagonist
Primary Indication:
Diabetic Peripheral Neuropathy
Overview
GRC 17536 is a potent and selective antagonist targeting transient receptor potential ankyrin 1 (TRPA1), a nonselective cation channel primarily expressed on pain mediating primary afferent peripheral nerve fibers.
Activation of TRPA1 by reactive metabolites generated in diabetic subjects has been identified as a mediator of DPN pain and is discussed to have an important role in the pathophysiology of DPN.
Painful diabetic peripheral neuropathy (DPN) has major implications on quality of life, morbidity, and costs from a public health perspective. Painful diabetic neuropathy affects 10 to 20% of patients with diabetes, and from 40% to 50% in those with diabetic neuropathy. Adverse effects of currently available centrally acting DPN therapies and a low responder rate contribute to suboptimal clinical outcomes in a large proportion of subjects resulting in a high unmet need for specific treatments with better safety profile and novel approaches to identify subjects likely to respond to treatment.
Six single and multiple dose Phase 1 clinical pharmacology studies and one Phase 2a study have been successfully completed without any safety issues. Primary endpoint was met in predefined subgroup of patients with preserved small nerve fibre function (change from baseline in average pain intensity [API] at Day 28; superiority of active drug vs placebo) in a Phase 2a study conducted in DPN patients.
A Phase 2b dose range finding study in DPN patients with preserved small never fibre function is planned for Q2 FY22.